Centre for Strategic Studies and Reforms

Moldova 2005: Challenges for Development of the Stable, Secure and Competitive Economy
XV Economic Forum
(Poland, Krynica, September 7-10 2005)
Twenty years ago, here, in Poland, "Solidarity" gave a distinct signal of trouble in political and economic systems of the "real socialism". All that followed – "perestroika" of the USSR, collapse of the Berlin wall, political transformation in Central and Eastern Europe, as well as in the Balkans – opened a path for democracy and market reforms for the post-soviet area too.
Republic of Moldova, as well as other republics of the Soviet Union, obtained – as a result of disintegration of the USSR – internationally recognized independence. And it mainly devoted the first ten years of its modern history, the 90's, to state consolidation, macroeconomic stabilization and adaptation of the economy to market conditions, democratization of public life. Moldova, finally, recommenced economic growth in 2000 and, in 2003, Moldova's Government "proclaimed the path of European integration as a nation-wide strategy" and proceeded to implementation of EU-RM Action Plan.
Economic issue is the main component of EU-RM Action Plan. It is important that its implementation concurs – as regards contents and terms – with the mid-term Strategy for Economic Growth and Poverty Reduction (EG-PRSP), coordinated between the Government of RM, IMF, WB and donor organizations.
Improving sustainability of economic growth, neutralizing risks (energy dependence, narrow export base, divided territory, poverty and new social inequality) and competitiveness of the economy are the key task of Moldova's economic policy. And the Government understands it well, having admitted in the Strategy for Economic Growth and Poverty Reduction (2004), that, after 15 years of transition towards market, "quality of economic growth in Moldova is still characterized by preservation of deformed economic structure, monostructural export and low level of investments into fixed capital. Such a paradigm of economic growth cannot serve a basis for sustainable development required to reduce poverty. It is at hand to accomplish the transition from the growth model, based on inflow of incomes from labor migrants and consumption, to the balanced growth model, where emphasis is made on attraction of investments, import substitution, export expansion. Changing the paradigm and quality of growth requires mobilization of new sources and factors of growth…" (see www.scers.md).
It is not easy to solve this task. In a sense, Moldova has advanced along the way of achieving the I Copenhagen criterion ("democratic political system") farther, than as regards the II criterion – "functioning competitive market economy". Using EBRD scale ratings for expert evaluation of Moldova's economy makes it obvious that "marketness" of the Moldovan economy is less explicit, than as regards its neighbors and main trade partners:
<![if !vml]>
<![endif]>
Note: Evaluation of indicators presented is based on the scale from 1 to 4+, where 1 signifies complete lack of transformation of the strictly built planned economy and 4+ signifies achievement of current standards of market economy in industrially developed countries. ↑↓ show change of branch data (EBRD: Reports of Transition, http://www.ebrd.com/pubs/tr/index.htm).

Change of the paradigm of economic growth means for Moldova transition from post-crisis growth to investment growth, which is not easy to accomplish. On the one hand, the state (Government) needs growth and wants to obtain maximally possible political and social dividends here and now. On the other, risks, among which are still existing distrust between main participants of economic process – state, proprietors and waged workers – plus the fact that everyone lacks necessary "credit history" condition on the wait-and-see attitude of business-community.
Among risks and threats for sustainable and secure economic growth, could be mentioned the following:
· Quality, structure of GDP growth. Share of real sector in GDP growth of 2004 is rather small (for instance, share of industry is only 0.9%, and in 2003 it was 2.8%). But its major part is formed in services, import operations, with the help of bank credits, etc. GDP growth, given such a structure, is not equal to growth of real resources at all;
· High (90%) dependence of Moldova on import of energy resources (rise in prices for 1 barrel of oil by $10 leads to decrease of economic growth rates by approximate 0.5%);
· Inadequate state of business environment, which shows through insufficient volume of export, uncertainty in mood of foreign investors, freeze of privatization and preservation of the large sector of shadow economy;
· Critical state of the country's balance of payment due to almost double exceeding of import over export – replenishment of the country with remittances from Moldovan citizens working abroad (more than $700 mil in 2004) is of little relieve;
· High external ($1.9 bil) and growing internal (MDL3.7 bil) debt;
· Lingering territorial division of the country (factor of Transnistria). According to estimates of the World Economic Forum experts, each year of the conflict causes loss of circa 2.2% of growth.

The readiness of the domestic business to develop is critically important for Moldovan economy, since foreign capital comes to the country only given the wide activity of local investors. The fact that Moldova is still a country with low level of foreign investments per capita ($44 in 2004) does not hearten both Government and business community at all.
Yet, both Moldovan and foreign investors' attitude towards calls for activization is temporizing. The main problem consists in uncertainty of reference points concerning "rules of the game", on which development of relations between the state and business will be based. The business considers practical actions of the authorities important. And it is these actions, in particular, that the business has been watching intently. Watching and waiting…
Peculiarity of the current post-crisis growth in Moldova consists in the fact that this growth (registered based on GDP dynamics and consumption) happens at the same time as employment decreases! Thus, given that average annual GDP growth rate during 1999-2004 was 5.6%, demand for labor force did not increase, number of those employed in the economy even decreased (average annual rate of employment reduction over this period is circa 2%). Let us note that most poor people in Moldova are the "working poor": according to the World Bank estimate, ¾ of those employed in Moldova are poor, i.e. work still fails to save from poverty in many cases.
Demographic forecasts, as well as in other countries of this region (Ukraine, Bulgaria), are neither comforting. It seems that 2003 was the last year when Moldovan able-bodied population grew, and from this point on, absolute number of people able to work will be reducing. In 2010, labor force growth will make up no more than 9 thou people, while in 2015, negative growth of at least 20 thou people is expected. Let us complement this with the permanently increasing outflow of labor force (the most qualified and mobile) abroad and loss of workers due to their prolonged unemployment: on average, qualification is lost after a year of forced idleness and unsuccessful job search (today, average duration of unemployment in the country is 23 months). Besides, there is an acute lack of persons capable of working in a qualitative way. Now, stable unemployment coexists in Moldova with the deficit of qualified labor force, which still more aggravates the country's readiness to proceed to the investment paradigm of economic growth.
So, Republic of Moldova, which declares its devotion to the principles of European integration, has, along with democratization of the state and public life, to modernize its economy. And not just "achieve GDP of 1990", but transform institutional system, structure of the real sector and adapt social sphere in such a way, so they could provide for Moldova's viability as a European state as regards competitiveness of its economy and welfare of its population.
Limited resources of the country precondition the necessity to use its geo-economic advantages (at the junction of Central Europe, Balkans and CIS) and the riches of agro-industrial sphere. Parallel with this, it is necessary to set going relatively non-capital-intensive factors of growth. Among them are:
· Realizing actions for bringing key areas of Moldovan legislation closer to the legislation of European Union;
· Normalizing relations between state and private sector, improving business climate (competition, taxes, regulatory measures), including the investment climate for both foreign and national economic agents;
· Legalizing shadow economy in combination with fighting "state usurpation" by elite groups that pursue their own ends;
· Creating "growth poles" based on free economic zones, manufacturing and infrastructural complexes, as well as the group of 7-10 cities – regional centers;
· Activizing labor market, expanding employment for those able-bodied and strengthening needs-oriented character of state social assistance for those in need;

At the same time with the "close range" actions – as resources, knowledge and experience are accumulated – there have to be accomplished long-term deeper, fundamental changes:
· Structural shift in manufacturing industry in favor of labor-intensive and non-raw-material-intensive production;
· Reconstruction of the agricultural sector and social invigoration of the rural environment;
· Building-up of export potential, diversification of export and search for new outlets;
· Accumulation of internal savings and assistance to the inflow of capital and new technologies to Moldova from countries rich in capital;
· Raising of investments in human capital. The state has to subsidize education and professional training, as well as R&D and IT that should be considered as a particular type of capital.

It is also very important for Moldova to improve institutional environment: quality of governance and protection of citizens' rights and freedoms. World experience shows that it is politically open societies, where legal norms are observed, authoritarianism and group interests are suppressed, right of property is protected and market distribution of resources is ensured, that are stable and that develop in a more effective way than societies, where economic and private freedoms are restricted.

Annex
Dynamics of macroeconomic indicators, 2000-2004

Moldova

Russia

Romania

Ukraine

Poland

Real GDP (% change)

2000

2.1

10.0

2.1

5.9

4.0

2001

6.1

5.1

5.7

9.2

1.0

2002

7.8

4.7

5.1

5.2

1.4

2003

6.6

7.3

5.2

9.6

3.8

2004

7.3

7.1

8.3

12.1

5.4

Investment (% change)

2000

-0.7

18.1

4.6

12.4

2.7

2001

5.2

10.3

6.6

6.2

-9.8

2002

11.1

2.8

8.3

3.4

-5.8

2003

7

12.9

9.2

15.8

-0.9

2004

8

10.8

10.1

11.0

9.4

Individual Consumption (% change)

2000

27.6

7.1

0.2

2.3

2.7

2001

6.1

9.9

6.4

9.0

2.0

2002

5.9

8.7

3.0

9.0

3.3

2003

18.5

7.2

7.1

12.1

3.1

2004

6.9

11.3

10.8

12.5

3.2

Current Account (% of GDP)

2000

-8.2

18.0

-3.6

4.7

-6.1

2001

-2.6

11.1

-5.8

3.7

-3.9

2002

-4.0

8.4

-3.4

7.5

-3.6

2003

-6.6

8.3

-6.1

5.8

-2.2

2004

-4.4

10.0

-7.5

10.3

-1.5
Source: New Europe: Report on Transition, Institute of Eastern Studies (Warsaw).
Figures for Moldova for 2004: National Statistics Bureau and NBM
<![if !vml]>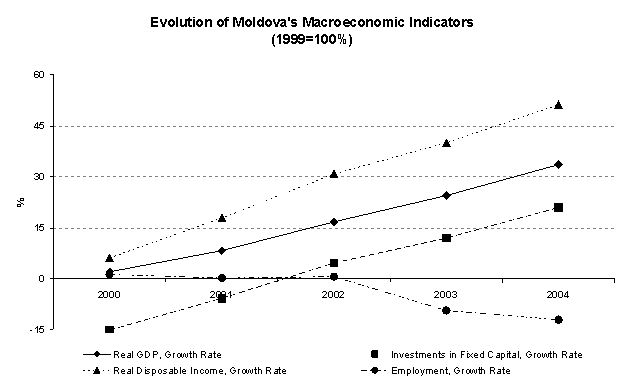 <![endif]>
<![if !vml]>
<![endif]>
<![if !vml]>
<![endif]>
---